Silicone Sealants
RTV 732 - Acetoxy and Oxime Cure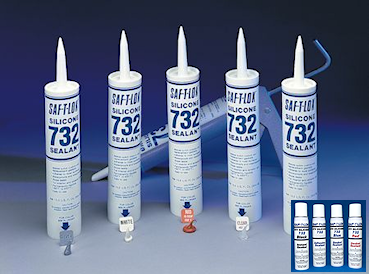 RTV 732 Silicone Sealants offer a high performance product designed for a broad variety of sealing and bonding requirements in original equipment manufacturing or for maintenance needs. RTV 732 Silicones cure rapidly to a strong, durable, flexible rubber at room temperature and bond to a wide range of substrate materials including metals, glass, most plastics, fabric, wood, ceramics, etc.
This formula meets the following specifications: Interim Federal Specifications TT-S-001543A and TT-S-00230C, MIL-A-46106A Amendment 2, Type 1, ASTM-C-920 Type S, NS Class 25, FDA CFR. 177.2600, USDA, NSF 51, UL File No. (E163851) (E255646) (Type KEG 4200). The colors black, clear (translucent) and white have been granted approval by the United States Department of Agriculture (USDA) as a chemically acceptable sealant in official establishments operating under the Federal Meat and Poultry Products Inspection Program.
SAF-T-LOK® Silicone Sealants are 100% solids and contain no extenders, thus shrinkage due to weathering is nil. They possess excellent resistance in U.V. ozone, smog, rain and snow. They also have excelllent insulation properties when applied to electrical connections, etc.

---
RTV 732 Silicone Sealants  - Acetoxy Cure
---
RTV 732 - Clear (Translucent)
Part Number: 73022
Description: Clear Silicone Sealant - Acetoxy Cure
Container Size: 3 oz Tube
Tubes per Case: 12
Price per Case (US$): $83.16
Specification: MIL-A-46106A, TT-S-001543A, TT-S-00230C ASTM-C-920, FDA CFR.177.2600, NSF 51, UL
Technical Data Sheet | Safety Data Sheet
---
RTV 732 - Clear (Translucent)
Part Number: 73048
Description: Clear Silicone Sealant - Acetoxy Cure
Container Size: 7.25 oz Pressure Can
Cans per Case: 12
Price per Can (US$): $22.83
Specification: MIL-A-46106A, TT-S-001543A, TT-S-00230C ASTM-C-920, FDA CFR.177.2600, NSF 51, UL
Technical Data Sheet | Safety Data Sheet


THIS PRODUCT CANNOT BE SHIPPED BY AIR
---
RTV 732 - Clear (Translucent)
Part Number: 73063
Description: Clear Silicone Sealant - Acetoxy Cure
Container Size: 10.3 oz Cartridge
Cartridges per Case: 12
Price per Cartridge (US$): $12.09
Specification: MIL-A-46106A, TT-S-001543A, TT-S-00230C ASTM-C-920, FDA CFR.177.2600, NSF 51, UL
Technical Data Sheet | Safety Data Sheet
---
RTV 732 - Clear (Translucent)
Part Number: 73079
Description: Clear Silicone Sealant - Acetoxy Cure
Container Size: 4.5 Gal. Pail
Pails per Case: 1
Price per Pail (US$): $527.31
Specification: MIL-A-46106A, TT-S-001543A, TT-S-00230C ASTM-C-920, FDA CFR.177.2600, NSF 51, UL
Technical Data Sheet | Safety Data Sheet
---
Part Number: 73122
Description: White Silicone Sealant - Acetoxy Cure
Container Size: 3 oz Tube
Tubes per Case: 12
Price per Case (US$): $83.16
Specification: MIL-A-46106A, TT-S-001543A, TT-S-00230C ASTM-C-920, FDA CFR.177.2600, NSF 51, UL
Technical Data Sheet | Safety Data Sheet
---
Part Number: 73148
Description: White Silicone Sealant - Acetoxy Cure
Container Size: 7.25 oz Pressure Can
Cans per Case: 12
Price per Can (US$): $22.83
Specification: MIL-A-46106A, TT-S-001543A, TT-S-00230C ASTM-C-920, FDA CFR.177.2600, NSF 51, UL
Technical Data Sheet | Safety Data Sheet


THIS PRODUCT CANNOT BE SHIPPED BY AIR
---
Part Number: 73163
Description: White Silicone Sealant - Acetoxy Cure
Container Size: 10.3 oz Cartridge
Cartridges per Case: 12
Price per Cartridge (US$): $12.09
Specification: MIL-A-46106A, TT-S-001543A, TT-S-00230C ASTM-C-920, FDA CFR.177.2600, NSF 51, UL
Technical Data Sheet | Safety Data Sheet
---
Part Number: 73179
Description: White Silicone Sealant - Acetoxy Cure
Container Size: 4.5 Gal. Pail
Pails per Case: 1
Price per Pail (US$): $527.31
Specification: MIL-A-46106A, TT-S-001543A, TT-S-00230C ASTM-C-920, FDA CFR.177.2600, NSF 51, UL
Technical Data Sheet | Safety Data Sheet
---
Part Number: 73222
Description: Black Silicone Sealant - Acetoxy Cure
Container Size: 3 oz Tube
Tubes per Case: 12
Price per Case (US$): $83.16
Specification: MIL-A-46106A, TT-S-001543A, TT-S-00230C ASTM-C-920, FDA CFR.177.2600, NSF 51, UL
Technical Data Sheet | Safety Data Sheet
---
Part Number: 73248
Description: Black Silicone Sealant - Acetoxy Cure
Container Size: 7.25 oz Pressure Can
Cans per Case: 12
Price per Can (US$): $22.83
Specification: MIL-A-46106A, TT-S-001543A, TT-S-00230C ASTM-C-920, FDA CFR.177.2600, NSF 51, UL
Technical Data Sheet | Safety Data Sheet


THIS PRODUCT CANNOT BE SHIPPED BY AIR
---
Part Number: 73263
Description: Black Silicone Sealant - Acetoxy Cure
Container Size: 10.3 oz Cartridge
Cartridges per Case: 12
Price per Cartridge (US$): $12.09
Specification: MIL-A-46106A, TT-S-001543A, TT-S-00230C ASTM-C-920, FDA CFR.177.2600, NSF 51, UL
Technical Data Sheet | Safety Data Sheet
---
Part Number: 73279
Description: Black Silicone Sealant - Acetoxy Cure
Container Size: 4.5 Gal. Pail
Pails per Case: 1
Price per Pail (US$): $527.31
Specification: MIL-A-46106A, TT-S-001543A, TT-S-00230C ASTM-C-920, FDA CFR.177.2600, NSF 51, UL
Technical Data Sheet | Safety Data Sheet
---
Part Number: 73348
Description: Blue Silicone Sealant - Acetoxy Cure
Container Size: 7.25 oz Pressure Can
Cans per Case: 12
Price per Can (US$): $22.83
Specification: MIL-A-46106A, TT-S-001543A, TT-S-00230C ASTM-C-920, FDA CFR.177.2600, NSF 51, UL
Technical Data Sheet | Safety Data Sheet


THIS PRODUCT CANNOT BE SHIPPED BY AIR
---
RTV 732 - Aluminum (Silver)
Part Number: 73463
Description: Aluminum (Silver) Silicone Sealant - Acetoxy Cure
Container Size: 10.3 oz Cartridge
Cartridges per Case: 12
Price per Cartridge (US$): $12.09
Specification: MIL-A-46106A, TT-S-001543A, TT-S-00230C ASTM-C-920, FDA CFR.177.2600, NSF 51, UL
Technical Data Sheet | Safety Data Sheet
---
RTV 732 - Aluminum (Silver)
Part Number: 73479
Description: Aluminum (Silver) Silicone Sealant - Acetoxy Cure
Container Size: 4.5 Gal. Pail
Pails per Case: 1
Price per Pail (US$): $527.31
Specification: MIL-A-46106A, TT-S-001543A, TT-S-00230C ASTM-C-920, FDA CFR.177.2600, NSF 51, UL
Technical Data Sheet | Safety Data Sheet
---
RTV 732 - High Temperature (Red)
Part Number: 73622
Description: High Temp. (Red) Silicone Sealant - Acetoxy Cure
Container Size: 3 oz Tube
Tubes per Case: 12
Price per Case (US$): $114.96
Specification: MIL-A-46106A, TT-S-001543A, TT-S-00230C ASTM-C-920, FDA CFR.177.2600, NSF 51, UL
Technical Data Sheet | Safety Data Sheet
---
RTV 732 - High Temperature (Red)
Part Number: 73648
Description: High Temp. (Red) Silicone Sealant - Acetoxy Cure
Container Size: 7.25 oz Pressure Can
Cans per Case: 12
Price per Can (US$): $24.54
Specification: MIL-A-46106A, TT-S-001543A, TT-S-00230C ASTM-C-920, FDA CFR.177.2600, NSF 51, UL
Technical Data Sheet | Safety Data Sheet


THIS PRODUCT CANNOT BE SHIPPED BY AIR
---
RTV 732 - High Temperature (Red)
Part Number: 73663
Description: High Temp. (Red) Silicone Sealant - Acetoxy Cure
Container Size: 10.3 oz Cartridge
Cartridges per Case: 12
Price per Cartridge (US$): $31.43
Specification: MIL-A-46106A, TT-S-001543A, TT-S-00230C ASTM-C-920, FDA CFR.177.2600, NSF 51, UL
Technical Data Sheet | Safety Data Sheet
---
RTV 732 - High Temperature (Red)
Part Number: 73679
Description: High Temp. (Red) Silicone Sealant - Acetoxy Cure
Container Size: 4.5 Gal. Pail
Pails per Case: 1
Price per Pail (US$): $1,103.20
Specification: MIL-A-46106A, TT-S-001543A, TT-S-00230C ASTM-C-920, FDA CFR.177.2600, NSF 51, UL
Technical Data Sheet | Safety Data Sheet
---
---
RTV 732 - Marine Grade Clear
Part Number: 73863
Description: Clear Marine Grade Silicone Sealant - Acetoxy Cure
Container Size: 10.3 oz Cartridge
Cartridges per Case: 12
Price per Cartridge (US$): $14.49
Specification: MIL-A-46106A, TT-S-001543A, TT-S-00230C ASTM-C-920, FDA CFR.177.2600, NSF 51, UL
Technical Data Sheet | Safety Data Sheet
---
RTV 732 - Marine Grade Clear
Part Number: 73879
Description: Clear Marine Grade Silicone Sealant - Acetoxy Cure
Container Size: 4.5 Gal. Pail
Pails per Case: 1
Price per Pail (US$): $632.78
Specification: MIL-A-46106A, TT-S-001543A, TT-S-00230C ASTM-C-920, FDA CFR.177.2600, NSF 51, UL
Technical Data Sheet | Safety Data Sheet
---
RTV 732 - Marine Grade White
Part Number: 74063
Description: White Marine Grade Silicone Sealant - Acetoxy Cure
Container Size: 10.3 oz Cartridge
Cartridges per Case: 12
Price per Cartridge (US$): $14.49
Specification: MIL-A-46106A, TT-S-001543A, TT-S-00230C ASTM-C-920, FDA CFR.177.2600, NSF 51, UL
Technical Data Sheet | Safety Data Sheet
---
RTV 732 - Marine Grade White
Part Number: 74079
Description: White Marine Grade Silicone Sealant - Acetoxy Cure
Container Size: 4.5 Gal. Pail
Pails per Case: 1
Price per Pail (US$): $632.78
Specification: MIL-A-46106A, TT-S-001543A, TT-S-00230C ASTM-C-920, FDA CFR.177.2600, NSF 51, UL
Technical Data Sheet | Safety Data Sheet
---
RTV 732 - Marine Grade Black
Part Number: 74163
Description: Black Marine Grade Silicone Sealant - Acetoxy Cure
Container Size: 10.3 oz Cartridge
Cartridges per Case: 12
Price per Cartridge (US$): $14.49
Specification: MIL-A-46106A, TT-S-001543A, TT-S-00230C ASTM-C-920, FDA CFR.177.2600, NSF 51, UL
Technical Data Sheet | Safety Data Sheet
---
RTV 732 - Marine Grade Black
Part Number: 74179
Description: Black Marine Grade Silicone Sealant - Acetoxy Cure
Container Size: 4.5 Gal. Pail
Pails per Case: 1
Price per Pail (US$): $632.78
Specification: MIL-A-46106A, TT-S-001543A, TT-S-00230C ASTM-C-920, FDA CFR.177.2600, NSF 51, UL
Technical Data Sheet | Safety Data Sheet
---
RTV 732 Silicone Sealants Neutral Cure (Oxime Cure)
---
RTV 732 - NC Clear (Translucent)
Part Number: 73763
Description: Clear Silicone Sealant - Oxime Cure
Container Size: 10.3 oz Cartridge
Cartridges per Case: 12
Price per Cartridge (US$): $27.59
Specification: MIL-A-46106A, TT-S-001543A, TT-S-00230C ASTM-C-920, FDA CFR.177.2600, NSF 51, UL
Technical Data Sheet | Safety Data Sheet
---
RTV 732 - NC Clear (Translucent)
Part Number: 73779
Description: Clear Silicone Sealant - Oxime Cure
Container Size: 4.5 Gal. Pail
Pails per Case: 1
Price per Pail (US$): $655.76
Specification: MIL-A-46106A, TT-S-001543A, TT-S-00230C ASTM-C-920, FDA CFR.177.2600, NSF 51, UL
Technical Data Sheet | Safety Data Sheet